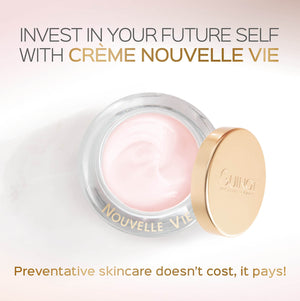 THE Perfect Cream for the first signs of ageing!
With age or during periods of fatigue, women see changes in their skin, which becomes increasingly vulnerable over time: expression lines and dehydration, lack of tone and dull complexion begin to form.
Several factors cause first signs of ageing to appear:
On the skin and In the skin
Wrinkles, expression lines and dehydration
Increase in oxidative stress, due to free radicals
Wrinkles, expression lines and dehydration
Fatigue
Dull complexion
Uneven skin tone
Decrease in the production of hyaluronic acid, collagen and elastin
Lack of tone
It is possible to act both in and on the skin to diminish the appearance of first signs of ageing and slow down their formation.
REJUVENATING ACTION - Tones The Hydravie Complex stimulates cell metabolism and strengthens the epidermal architecture, thanks to its high concentration in peptide compounds, flavonoids, polyphenols and mineral salts.
PROTECTS - Vitamin E, with antioxidant properties, protects skin from premature ageing.
MOISTURISES - The Hydrocyte Complex attenuates dehydration lines and intensely replenishes moisture. A powerful moisturising ingredient that contains Hyaluronic Acid, it forms a film over the skin's surface to retain water and maintain optimal moisturise levels.
ANTI-FATIGUE & RADIANCE-BOOSTING ACTION - Smoothes skin - erases signs of fatigue thanks to its keratolytic action that facilitates the detachment of dead cells, Glucono-delta-lactone helps improve cell renewal by ridding the skin of imperfections, and leaving it looking beautifully radiant.
Results 92% Of the women felt their skin was smoothed & that their complexion was fresh after 1 month of application!