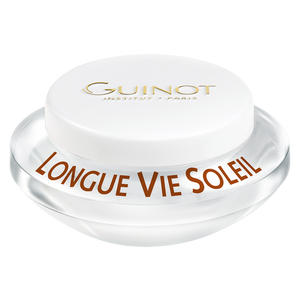 Longue Vie Soleil - Youth Cream Before and After Sun
Prepares the skin for sun exposure by reinforcing the skin's natural defences.
Repairs and nourishes the skin after sun exposure.
Soothes and moisturises.
Gives the skin a more youthful appearance.

In the morning, after cleansing thoroughly, apply to the entire face before the sunscreen. Apply in the evening after sun exposure.

56 CELLULAR INGREDIENTS : restore younger-looking skin and bring about an even tan by helping to prevent the appearance of signs of premature ageing (wrinkles, lines etc.) and dark spots.

DNA : Sacrifices itself to protect the DNA in the cell nuclei.

ALLANTOIN AND SEAWEED EXTRACT : soothe the skin and make it comfortable.

TYR-OL AND COPPER GLUCONATE : help bring about an even tan and make it last longer.

HYDROCYTE COMPLEX AND SHEA BUTTER : provide intense short-term and long-term hydration and nourishment.

VITAMIN E AND 'SKIN TREE' (MIMOSA) : have anti-free radical and antioxidant properties that target the causes of photo-ageing, or the free radicals generated by UV rays.

50ml