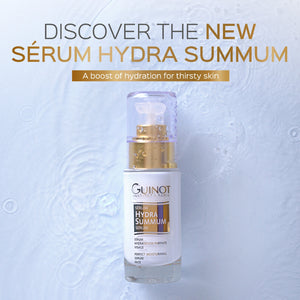 Rapidly restores optimal moisture levels to the skin leaving it comfortable, plump, smooth & radiant.
Hydralogic complex (high concentration in Hyaluronic Acid and Aquasilanol):
Forms an anti-evaporation barrier : reinforces the structure of the skin barrier to limit moisture loss and reash an optimal level of moisturisation. "Plumps up" dehydration lines.
Retains moisture in the skin : helps recover the capabilities of young skin to retain moisture by stimulating the synthesis of "water reservoir" molecules.
Infuses skin with moisture : stimulates hydration and improves moisture diffusion throughout the skin by stimulating the synthesis of Aquaporins. These proteins form and intercellular channel to facilitate moisture flow.