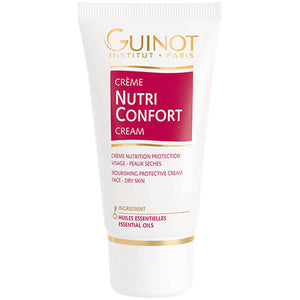 Creme Nutrition Confort (50ml), is a  continuous nourishing and protection cream is a nourishing repair cream for very dry skin; repairs the skin deeply due to the instant penetration of the essential oils. 
Creme Nutrition Confort restores the Hyro-lipidic film and the skin's natural comfort with the nourishing oils. Above all, dry skin needs well being and protection.
This is what Creme Nutrition Confort offers daily. This beauty elixir, brimming with nourishing and protective essential oils, shields the skin to help it face outside attack. Active ingredients are progressively dispersed within the epidermis to minimise all sensations of discomfort. More supple, perfectly nourished, the skin becomes divinely replenished.
This product is a rich but easily absorbed cream that instantly comforts the moment it is applied.
Key Active Ingredients:
Essential oils of Thyme, Lavender and Rosemary soothe, repair and regenerate dry, taut skin. Shea Butter deeply moisturises, nourishes and protects whilst Jojoba oil restores the hydrolipid film on the surface of the skin to ensure moisture isn't lost. Evening Primrose Oil stimulates micro-circulation, as well as firming and restoring suppleness to the skin and Vitamin E regenerates, rehydrates and provides anti-free radical action. Due to the instant absorption of the essential oils, skin is left nourished, suppler, softer and feeling more comfortable.
Applying Creme Nutrition Confort:
Smooth gently over the face and neck, avoiding the eye area morning and night.