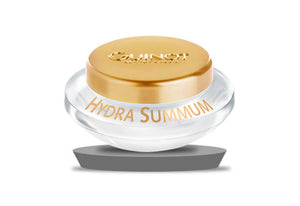 Hydra Summum (50ml) offers the ultimate nourishing hydration moisturiser.
The moisturiser provides an innovative boost with an average 54% increase in moisture levels after 1 month of use. The product significantly increases the skins hydration levels for a long period of time.
The key benefits of this moisturiser are that it ensures overall hydration, leaves the skin soft, supple, resilient and radiant, restores a beautiful and revitalises the skin.
As a result the face appears more youthful.
Key Active Ingredients of Hydra Summum:
Hydration Complex – Aquasilanol:
An active ingredient that hydrates and restructures to restore hydration levels for more youthful skin.
The skin of the skin's barrier is reinforced which increases the skin's capacity to store water.
Ant-Ageing Molecule – Hyaluronic Acid:
A molecule that is naturally present in the epidermis and is known for enabling the skin to increase its water capacity considerably.
Applying Hydra Summum:
Apply daily morning and/or evening sparingly with fingertips after cleansing. Apply all over the face, neck and decollete but avoiding the eye area.